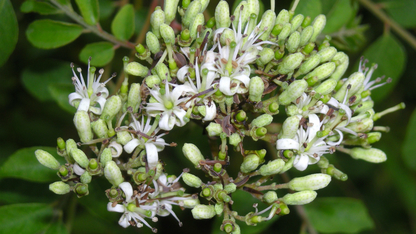 Indian curry leaf has proved to be an easy plant to grow here in
our central Texas area.
Native to India and Sri Lanka, Indian curry leaf is a member of the
rue family, which includes citrus and the popular herb rue. (In olden
times, rue was thought to improve eyesight and creativity, and is a
plant for swallow-tail butterflies.)
In its native habitat, curry leaf (Murraya koenigii) grows as a small
tree, reaching a height of 15 to 20 feet. It is popular with Indians and
fans of Indian cuisine because of its highly aromatic pinnate leaves
which are used to make curry. Leaves are chopped and fried in oil
with onions as a start to many traditional dishes.
Here at the nursery we grow curry from seed obtained from our
mother plants. The white flowers bloom in clusters, each providing
shiny black berries containing one seed each.
We remove the seed from the berry and plant in a soil-less potting
or germinating mix (Metro). The berry needs to be plump and soft.
If allowed to dry and shrivel, germination is poor. With fresh seed,
the germination is close to 100%!
Since curry leaf is a tropical tree, it can't survive freezing tempera-
tures. We planted one in our butterfly garden last spring and it sur-
vived through our very mild winter. Our low was around 30 degrees
which didn't harm the tree.
Lucky for us, curry leaf is easy to grow in containers. Plant them
in full sun to part shade, and use a great soil mix like Metro or
Happy Frog, and keeping moist but not wet.
Give one a try. Because I cannot let one seed go to waste, I have
hundreds of baby curries ; - )  Happy gardening everyone!